NM Evaluation Lab Students Present Plans for 5 Community Organizations to RAND
February 4, 2016 - Institute for Social Research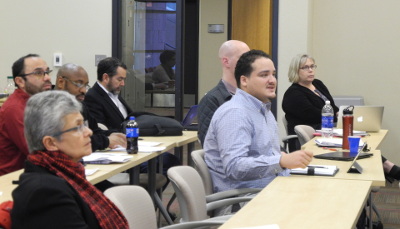 Students from UNM and the Pardee RAND Graduate School (PRGS) exchanged ideas on helping community organizations in New Mexico develop effective program evaluation plans via a video-conference on Friday, January 22.
The UNM students are Fellows of the NM Evaluation Lab @ UNM, a new initiative that trains graduate and advanced undergraduate students to provide program evaluation services to community organizations throughout New Mexico. Evaluation teams composed of students, UNM researchers and community organization staff worked together over the Fall semester to develop plans for organizations to assess their effectiveness.
The RAND students shared suggestions to improve the plans under the direction of PRGS Assistant Dean Gery Ryan, who has an extensive background in evaluating programs that aim to improve community health.
In opening comments, Evaluation Lab Director Melissa Binder expressed enthusiasm for the event "as another way we can achieve our goal of supporting the people in community organizations who are working every day to improve the quality of life for New Mexico families."
In addition to the students and researchers, representatives from three of the community organizations joined the conversation: PB&J Family Services, CLNKids, and Las Cumbres Community Services. The other partner organizations are La Red del Rio Abajo and Enlace Communitario. Together, the organizations serve vulnerable families in Central and northern New Mexico. Approaches include social services provision, prevention programs and community leadership development.
After incorporating the ideas that came out of the UNM-RAND conversation, the UNM students will work hand-in-hand with each organization to implement the evaluation plans. The intended outcome is an exciting learning opportunity for students, and useful program evaluation feedback for the organizations. As one student remarked, "the Evaluation Lab uses research for a new and really interesting purpose...giving back to the community in a very direct and concrete way."
To learn more visit the UNM Evaluation Lab website or contact Melissa Binder.